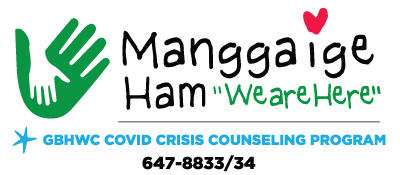 MANGGAIGE HAM (WE ARE HERE)
Manggaige Ham is a Crisis Counseling Program (CCP) funded by FEMA and SAMHSA/CMHS during a Presidential declared disaster - the COVID-19 pandemic. The fund is made available under Section 416 of the Robert T. Stafford Disaster Relief and Emergency Assistance Act, (Public Law 93-288, as amended).

The primary goal is to help survivors understand that they are experiencing common reactions to extraordinary occurrences and make appropriate referrals to services as needed. The objective is to provide survivors the opportunity to speak to a crisis counselor about their COVID-19 experiences and distribute public awareness resources through various platforms to 2% of the target population of the island of Guam, focusing on the special needs population of individuals with mental illness, the homeless, and survivors of the COVID-19.

The Manggaige Ham Crisis Counselors will provide emotional support, public information, and referrals when needed to calls coming in through the 647 - 8833/34 crisis line to survivors affected by COVID-19. They will engage and encourage survivors to talk about their experiences, teach them ways to manage their stress and link callers to additional resources in the community. For survivors requiring traditional therapy, appropriate referrals will be made to behavioral health professionals. Hours of operation are Monday to Friday from 8 a.m. to 8 p.m.

The Manggaige Ham program will provide a robust social marketing campaign disseminating educational materials, and wellness messages to include tips on stress management, positive coping skills building, help seeking behaviors, and other mental health related matters to Guam's diverse community.